07 septembre 2011
Après quelques difficultés ici, nous avons décidé de revenir en France... Et comme on ne voulait pas achever l'aventure trop brutalement, nous reviendrons moitie en train / moitie a vélo! Au programme donc: le train depuis Targu-Mures jusque Bratislava (ça promet d'être épique!!) puis traversée a vélo de la République Tchèque et de l'Allemagne jusqu'à Osnabruck, chez l'ami Riton!! Apres, certainement re-train jusqu'à Liège chez keupin Ben's. Puis re-vélo si le temps le permet jusque chez Marie, ou jusqu'à la France ou nous rentrerons chacun chez nos papa-mamans (et/ou amis chers a nos coeur!)! :) Depart prevu demain aprem!
Home sweet home!
Comme a l'aller, nous essayerons de vous tenir au courant du voyage ici. Ça sera plus court (seulement 1000 km de vélo!), alors on vous dit a très bientôt!!
- - - - - - - - - - - - - - - - - - - -
After some difficulties here, we took the decision to come back in France... As we didn't want to finish the adventure too sudenly , we'll come back half part by train / half part by bicycles! In prog thus: train from Targu-Mures to Bratislava (which promise some fun!...), then bike through Czeck Republic and Germany, then train again until France where we'll go back to home sweet home each of us! Departure planed tomorrow in the afternoon!
So, like for the first part, we'll try to keep you in touch on our blog.
See you soon for those on our road...
And good bye for those we are leaving there!... Hope to see you again one day. We know that life is well done and world is small so.......... see you soon!! Thank you for everything.
La revedere Romania!
A: Targu-Mures, B: Alba-Iulia, C: Budapest, D: Bratislava --> A to D: train
E: Prague, F: Osnabruck --> D to F: bike
G: Liege --> F to G: train
(H: Beauraing), I: Lille --> G to I: bike if the weather is ok...
J: Paris to Angers and Toulon --> train
03 septembre 2011
Dans ce message on parlera de "comment on équipe un aigle d'une balise GPS Argos".
In that post we gonna talk about "how to tag an eagle with GPS Argos".
---
Tout d'abord, il faut savoir comment capturer un aigle adulte. Nous avons déjà vu la technique pour la capture des jeunes au nid.
First of all, let's say how to capture an eagle adult. We already knew the chick catching method from the nest.
L'oiseau est protégé, ici le braconnage fait rage, donc je vais m'abstenir de dévoiler la technique dans le detail. Un aigle adulte vaut un paquet de LEI, croyez-moi!
Grossomodo, un filet spécial rapace tendu aux abords du nid (ou se trouve un poussin), un élément potentielement agresseur ou prédateur, pour attiser l'attaque d'un des deux adultes du couple. Ensuite, l'attente est notre meilleure amie.
Si quelqu'un veut connaitre la technique plus en détail, nosu avons des schémas, photos...
That bird is protected, here poaching is raging, so I wont tell you the technic in detail. An Eagle adult is such a big amount of money, believe me!
We've more or less to reach a net near by the nest (which is occupied by a chick), a potentially agressive element or predator, to force adult attacks. Then our best friend is pending.
If somebody want to learn the technic, feel free to ask us, we have drawing, pictures...
---
Ensuite, une fois l'aigle capturé, il faut l'equiper de ses bagues personnelles, une bague acier portant le numero du museum, par exemple HOO 14 OO, et une bague qui permettra une lecture de l'identité à distance (sans recapture), dite bague couleur, codée CV blanc sur noir.
Then, once the eagle is catched, we have to equip it with personal rings, a steel one on which is written the museum number, for example HOO 14 OO, and a other colored ring to identify the bird from far away (without recapture), a ring coded (CV, HV, TC...) in white on black.
Pose bague sur poussin d'Aigle pomarin (Szillard) | Ringing on Lesser-spotted Eagle chick (Szillard)
On procède alors aux mesures, bec, serres, poids, échantillons plumes et fourreaux (pour les analyses génétiques), sang pour analyses complémentaires (parasite, groupe sanguin...)
We proceed to mesurement, beak, claw, weight, feather (for genetic analysis), blood for complementary analysis (parasite, blood group...)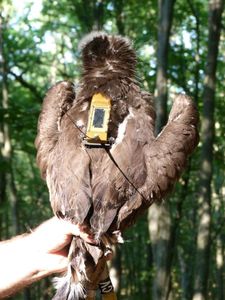 Vue de l'émetteur GPS Argos sur Aigle Pomarin | Tagging on Lesser-spotted Eagle, GPS Argos
---
Puis, l'étape la plus technique, positionner l'émeteur GPS Argos sur le dos de l'oiseau.
Finally, the most difficult step, put the Argos GPS transmettor on the bird back.
Transmetteur GPS Argos | GPS transmettor Argos
01 septembre 2011
Un peu de vacance aussi... il n'y a pas que le travail dans la vie!
A bit of such day off also... There isn't just work in life!
Passage en France puis retour accompagnée! DE MAMAN FISCHER
Going to France and go back with "The Mother of the Suzanne"!
Petit moment à vaquer en vacance vers les verdoyantes provinces des Maramures, aux alentours de Targu Mures, sur l'affreuse route de Transfagaras qui grimpe qui grimpe haut ! haut ! villages saxons aux sonorites bien germanique, peuplades gypsies, bergés bavards, bon fromage de montagne... Une semaine au rythme roumain pour Sue, Isa et moi.
For a while, we went in days off into the direction of deep domain of the Maramures, near by Targu Mures, on the hideous Transfagarasan road which climb climb so high ! so high ! Saxon villages where we found a real German accent, gypsies villages also, talkative shepherd, good mountain cheese enjoying... One week in which we, Sue, Isa and me took a romanian rythme.
Transfagarasan construite dans les années 70 par la folie d'un homme, Ceaucescu, au péril de vies, bien souvent détruites! | Transfagarasan road built during the 70 by the crazyness of one man, Ceaucescu, at the risk of lives, mostly spoiled!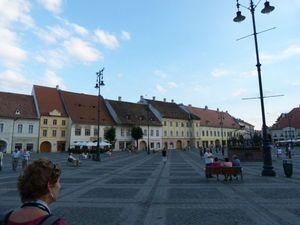 Place aux airs Italiens à Sibiu | Square which looks like Italian one, at Sibiu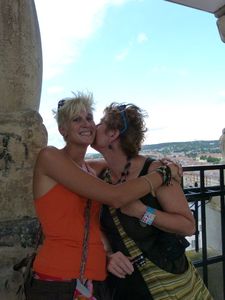 Depuis la tour du palais de la culture de Targu Mures |From the high tower of culture palace in Targu Mures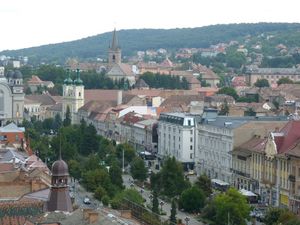 Vue de la tour, Targu Mures centre | From the tower, Targu Mures downtown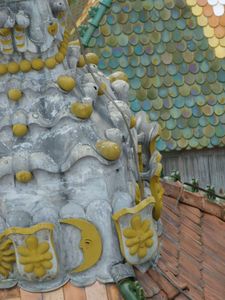 Toiture Bling bling à Targu Mures, faite en céramiques vernis | Roof Bling bling in Targu Mures, made with varnish ceram!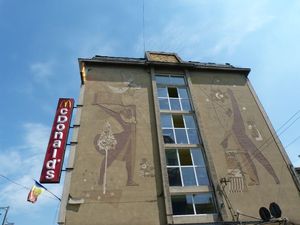 Voila la vérité vraie sur la Roumanie de nos jours, pas le temps, pas l'argent, pas l'envie, de s'occuper du souvenir, il y a "du retard" à compenser, un Mc do rien de mieux pour entrer de plein fouet dans le monde ouvert et capitaliste! | What to say? That's the new face of nowadays in Romania, no money, no means, no needs to care about souvenir, there "is delay" to fill up, what better than a Mc donald to come violently into capitalisme world issues!
Maramures et ces monastères tout de bois construit! | Made in Maramures monastry all wood built!
Pour ceux qui s'intéresseront à l'ingénierie des fermiers, ici un toit monté sur crémaillère pour protéger au mieux le foins mis à sécher! | Interesting stuff dedicated to those who want know more about engineering system of farmers, here a roof build to follow the quantity of dry grass, Trammel system!
21 août 2011
Fiche d'identite d'un poussin (Chick identity sheet): Alexandra
Date de capture: 23/07/11
Baguage (Ring):
metal: HOO 1389
Blanc/Noir (Coloured): AT
Mesures: (mm)
Serres (Raws): 26.6
Bec (Beak): 41.3 (black part: 29.8)
Poids (Weight): 1600 g
ARGOS GPS 47762 début de l'émission (emission beginning) 2:55
Ce poussin est nommé ainsi, car après que la capture d'un des parents ai échoué, nous avons décidé de capturer le jeune au nid.
Alexandra au nid | Alexandra on the nest
Peut être étions nous trop nombreux, trop agités, cela dit l'oiseau étant capable de voler, s'est échappé dès lors que Zsolt s'en approcha, au fur et à mesure de son ascension. Panique!!! !!!
Un premier vol plané, puis un autre élancé depuis un second arbre, puis rien, disparu... pas bon du tout, un aigle tout jeune au sol, synonyme de mort assuré. Il nous faut aller le chercher. Pas simple dans une foret de trouver un oiseau marron feuille-morte au sol. Après quelques minutes de recherche, je trouve le dit-oiseau en bordure de forêt. Szillart, le chef de l'opération, décide de nommer l'oiseau Alexandra!!!
This chick is named so, cause after a moment we decided to stop the adult catching to the benefit of chick catching from the nest.
After a while, when Zsolt was on the nest, the chick flew away...and then nothing, no tracks! You can imagine that a bird unable to fly back to the nest, on the ground, is a death synonym. Not easy to find back a dead-leave coloured bird in forest humus. After a while, I found the bird on the ground at the hedge of the forest. Szillart, our bird-tagging chief, decide to call the bird Alexandra.
Moi avec Alex | Me and Alex
21 juillet 2011
3 semaines de mission de terrain riche en nouveauté! | 3 weeks of field mission full of news!
Mais pour commencer un peu de culture locale! | But for the beginning just a bit local culture!
Nous avons assisté depuis la fenêtre à une cérémonie plutôt haute de forme! Tout à débuté le matin, une première voiture mise sur son 31 a été dépéché sur le parking d'à côté, puis une autre et encore une autre! Qu'est-ce donc?
We assisted from our window at a ceremony rather "jet set"! Once upon a time, in the morning, the first car came (which is a pretty stylee car, a Dacia with ribbon and so), on the parking lot near-by and then an other and an other! What is that?
a- Une scéance de bowling urbain (à en croire les souliers cirés)
a- A urban bowling session (if we look to oilskins shoes they wore)
b- Une pièce de théatre sauvage (oui tout est bien réglé)
b- A wild theatre play (because people arrived in a well adjusted way)
c- Un mariage transyslvanien!
c- A Transylvanian wedding!
(jeu concours avec obligation d'achat sous peine de poursuite judiciaire sur deux générations)
Ensuite, dans l'après midi:
Nous avons formé une petite équipe de nageur pour amasser des sous au profit d'une association !!!!!!!!!! !!!!!!!!
Then in the afternoon...
We take part of a swimming team to amass some money for the benefit of an association !!!!!
- Bon moi, je nage vite et pas longtemps! ( So me, I swim fast and not long!)
- Et moi je nage vite et longtemps, mais ça manque de sel dans cette piscine, je vais couler c'est sûr!! (And me I swim fast and for a long time, but there is a salt lack in this swimming pool, I gonna sink into the water!)
Sue en très beau plongeon! merci papa Fischer! et M. Metteur D'Ambiance au microphone! | Sue who is well diving (thanks Sue's father) and Mr Talkative at the Microphone!
Diplôme de parfait nageur | Perfect diving-girl diploma
On s'améliore de jours en jours! Voilà que nous avons maintenant beaucoup plus d'ombre! | We manage it better and better! Now we've got much more shadow!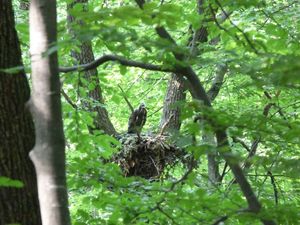 Petit Benjamin au nid | Benjamin's chick in the nest
Nous avons placé un émetteur Argos sur le dos de ce petit oiseau... Grâce à lui on en saura plus sur l'espèce et pourrons la protéger d'avantage et son habitat de la même manière.
We've tagged this little bird with Argos GPS... Thanks to it, we shall know more about the specie and then could protect the specie, all the food chain and the habitat.
15 juillet 2011
On continue les observations de l'aigle, plusieurs couples Arthur, Jobagy, Benjamin, Lopart, Marton. Mais la réussite n'est pas au rendez vous cette année avec les couvées. Peut-être pillage des nids par des braconniers! Qui sait?
| We carry on observe Eagle, several pairs Arthur, Jobagy, Benjamin, Lopart, Marton. But there is some problems with breeding. Perhaps chicks looting! Who knows?
Sue est belle! Sue travaille! Sue est encore au bureau! Sue prend le soleil! | Sue is beautifull! Sue works! Sue is still at the office! Sue take sunlight!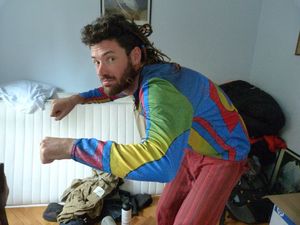 Mon cadeau! Un superbe T-shirt de cyclisme! | My gift! A wonderfull cycling T-Shirt!
Et un jour, dimanche 10 juillet, nous sommes parti, sac à dos, sur LA route, la E60, en direction de Bucuresti. Pour tenter de faire appliquer les lois en faveur de la dernière zone naturelle presque intouchée, de toute la zone tempérée du globe. Rien que ça! Au programme, rencontrer WWF roumanie, Agent Green pour représenter Milvus group, dans une manifestion bien ordonnée.
One day, sunday 10 july, we left, back-pack, on THE road, E60 road, to Bucuresti. To try to make apply laws in favour of the last virgin area of all global temperate zone. The plan, meet WWF Romania, Agent Green to represent Milvus Group, at a settled demo.
Le fait: une autoroute va être construite dans cette zone naturelle protégée. Protégée par ces mêmes personnes qui ont proclamé cette espace "à conserver" en y applicant des textes de lois européens (Natura 2000...) et qui maintenant projettent sa destruction. Ministère chargé de l'écologie! Vous pourrez trouver sur les pages consacrées à la biographie de ce suppôt de Satan qu'est Borbély Laszlo qu'il fût ministre des transports. http://www.borbelylaszlo.ro/ On comprends mieux alors pourquoi le choix de cette route qui détruit "cet espace originel" au profit d'une simple route illégal de surcroix, qui ne mènera qu'à un grand complexe hôtelier sur un emplacement illégal lui aussi.
The point: a highway will be built in a protected natural area. Protected by these same people who proclaim this area "to be conserve". They applied european text law (Natura 2000...) and now they project its destruction. Ministry in charge of ecology! You can find on these webpages an autobiography of this hellhound, Borbély Laszlo, that he was road and transport ministry. http://www.borbelylaszlo.ro/ We understand well now the reason of this choice. Build a highway which destroy "this virgin zone" in the profit of an illegal road, which will going to a huge hostel complexe in an illegal place also.
- Une situation qui ne développera sans doute pas les villages alentours | a situation which probably will not develop villages around.
- Qui ne réponds pas à la question du désengorgement car ici les routes sont désertes. | Which doesn't answer to the question of discongestion because roads there are deserted.
- Et qui ne permet pas non plus de relier une ville enclavée au reste du réseau car il n'y a personne par définition dans cet espace vierge. | Finally, which doesn't allow to link enclosed town to the rest of the road-network cause by definition there isn't people in this virgin area.
L'autre manière usitée pour aller aux détours des lois est de faire appel à cette lois européenne qui par définition surpasse les locales, qui stipule que "tout est permis" si le but d'une construction routière placée en zone qui l'interdit est de désenclaver une population. | The other solution to go over laws it's to use european law. These surpass local one by definition, and says "you've got the licence to" construct road on area where it's basically forbidden, if the goal is to get connection between enclosed localities.
Devant le ministère du développement durable, de la forêt et de l'environnement, Bucuresti | At the front of sustainable development, forestry and environment ministry, Bucuresti.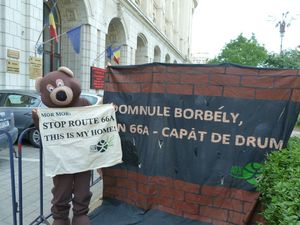 Monsieur Borbély, DN66A Fin de son voyage | Mister Borbély, DN66A The end of its way
Une manifestion basée sur l'efficacité, le visuel, tout le monde en T-shirt de son organisme. 4 Agent Green, 5 WWF, 3 Milvus Group. C'est tout! Une mise en scène!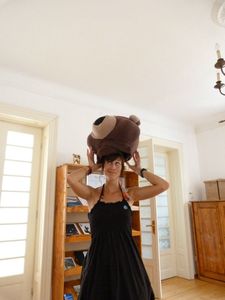 Sur le Terrain!!! | On the field !!!
Un jeune Aigle Pomarin! | A young Lesser-spotted Eagle!
Bobi sous le nid de Jobàgy (nom donné à un des Aigles) |Bobi under the Jobàgy nest (a Eagle named like that)
Bobi et Tibi dans le 4X4| In the off-roadcar, Bobi and Tibi.
Sur le terrain: Chaleur, soleil, abeille, transpiration, moustique... | On the field: Heat, sun, bee, sweat, mosquito...
Alex qui prépare une tente "façon touareg" avec nos capes de pluie et des bouts de bois. | Alex is building a "touareg tent" with our rain-coat et wooden sticks.
Sous la tente il fait bon vivre! | Hapiness under the tent!
04 juillet 2011
Tamasko et moi-meme au devant du danger | Tamasko and myself brave face to face with risk
Au sein d'un parc naturel, chaque entreprise se doit de présenter patte blanche lors d'une construction, d'une réparation quelqu'en soit la nature. Cette patte de blanche Hermine est une autorisation du directeur du parc naturel à la condition de la délivrance d'un certain papier qui est lui-même rendu par un organisme apte à réaliser l'étude préalable. pfiou!!! Finalement nous avons fait un rapide état des lieux floristique et des installations. C'est la règle!!! L'instalation que vous voyez est un ensemble de vannes à gaz, il y avait un problème, une fuite, ça sent le gaz au pays des toupoutous!
In the heart of a natural park, every company owes to give a official paper for reparation or construction. This paper is a key which is delivered if the park director allows this building or whatever and under condition of an extra study made by an approved organism. pfiou!!! Finally we (this approved organisme) had to go there and make a simple flora survey... It's the rule! This stuff you can see on the picture is a pipe-set for gas, there was a problem, a leak!!!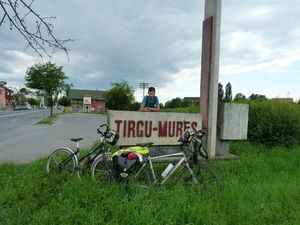 La photo que l'on voulait prendre en arrivant, frustration? plus du tout!! | The picture we wanted to take when we arrived, frustration? no more!!
No comment
Voilà à quoi ressemble une rue de ville moyenne Roumaine, Sighisoara (Schässburg)| That's how look a Romanian street of a medium town, Sighisoara (Schässburg)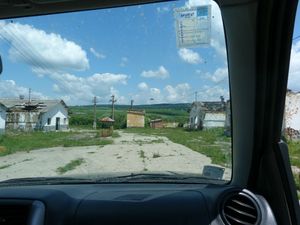 Une petit village Gypsie à 15 km de Sighisoara où on avait une partie du suivis Petit Duc scops | A little Gypsie village at 15 km from Sighisoara where we had Scops owl survey.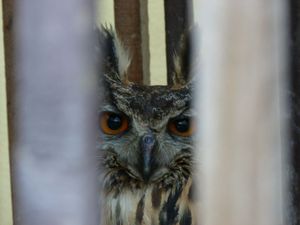 Un grand duc à l'association Milvus Group | An Eagle owl at Milvus Group office.
Palatul Culturii - Le Palais de la Culture,Targu Mures | Palatul Culturii - Culture palace, Targu Mures (Neumarkt)
Eglise orthodoxe à Targu Mures | Orthodox church in Targu Mures
On peut aussi voir sans trop chercher, des édifices de style Gypsie, sur les bords des routes. | We can see on the side of road and it isn't necessary to look for, Gypsie style buildings.
Architecture locale (très fréquente sur les bords des grandes routes) | local architecture (Very frequent on the edges of roads)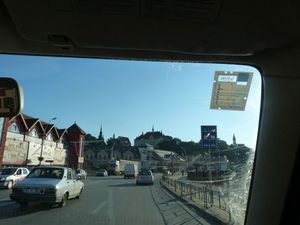 Une Jeep allait roulant, un playboy à son volant. Sighisoara | A Jeep went running, a playboy at the steering wheel. Sighisoara!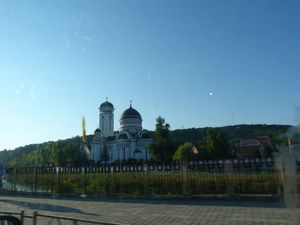 Segesvár, Orthodox katedrális (Cathédrale Orthodoxe de Sighisoara |Orthodox cathedral of Sighisoara)
Anciennement, à l'époque des Saxons, 18ème siècle environ, cette ville se nommait Schäßburg ou plutôt Schäsbrich en saxon de Transylvanie soit Segesvár en Hongrois ou encore Castrum saxorum en Latin. Voilà un exemple parmis tant d'autre de l'incroyable melting pot historico-culturel que concentre ce pays, du moins cette région. Tout ces peuples sont passés par là, y sont restés, s'y sont intégrés, s'en sont fait déloger... | Fromerly, in the Saxon's age, 18th century nearly, this city was named Schäßburg or Schäsbrich in Saxon language of Transylvania so Segesvár in Hungarian or also Castrum saxorum in Latin.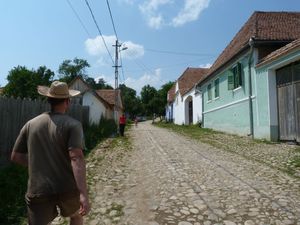 Mon petit ourson Tamàsko à Viscri | My little Bear Tamàsko at Viscri
Eglise Fortifiée à Viscri, petit village Saxon | Strengthened Church at Viscri, little Saxon village
29 juin 2011
L'aigle pomarin est ce que l'on nomme espèce parapluie (flagship specie) dans le jargon scientifique. Elle chapotte en quelques sortes l'écosystème lié et tout son cortège. On choisit la plupart du temps un prédateur de catégorie 2 ou 3 c'est-à-dire qui voit sa place dans la chaine alimentaire au top 2.
The Lesser-spotted eagle is that we named Flagship specie. It lead in a way the ecosystem connected to this specie. Usually scientists choose a great predator.
Par exemple, l'ours possède une première place assez simple à déterminer (hormis l'homme bien entendu qui est capable de tuer tout ce qui vit ou presque). On parle ici de grand prédateur presque ultime. Il est à la tête de tout un tas d'écosystème, il chasse, il pêche, il se nourrit d'oiseau, d'amphibien, de micromammifère... fort heureusement pour lui il est omnivore, donc insecte, baie en tout genre sont ses mets favoris (parfois charognard et surtout opportuniste). Il saura trouver son bonheur de toute manière.
For example, Bear have a quite easy place to determinate. In a way, we can considerate it as ultimate predator. It is at the head of several ecosystems, it's hunter, fisher, it feed itself with bird, herps fauna, micro-mammals... and fortunately it's omnivorous so it eat also insect, berry, scavenger and opportunistic. Anyway, it will find its food.
---
On lui coupe la route, il s'adaptera. On lui brule sa forêt, il se rapprochera des villes, on assèche les cours d'eau, il remontera à la source.
If we cut its path, it'll adapt. We burn its forest, it'll get closer of cities, we reclaim streams, it will go back up to the spring.
---
Mais ce n'est pas le cas d'espèce plus sensible comme l'aigle pomarin qui est toutefois espèce parapluie. Il est à la fin d'une Chaine alimentaire plus restreinte. Insectivore, carnivore, parfois une grenouille ou un lézard, voilà son régime alimentaire.
But it isn't the case of more sensitive species like Lesser-spotted eagle which however is flagship specie. It is at the end of a food-chain less long than the bear one. Insectivorous, carnivorous, sometimes frog or lizzard, that's its diet.
---
Son habitat est la plaine, il niche en petite forêt dans un bel arbre et chasse en zone ouverte, champs fauché, prairie, pâture, buisson... Un habitat moins diversifié que l'ours mais tout autant menacé.
Its habitat is plain, it nest in little mixt-forest at the top of a big tree. It hunt in open area, mown field, meadow, pasture, bushy area... A lesser-large habitat but as much threatened as bear one.
---
Le but de cette étude étant de mettre la patte sur le lien exercé entre méthode cultural et de gestion de l'espace vis à vis de l'espèce.
The goal of this study it to find the link between field-culture method, space managment face to face to the specie.
---
Un travail qui consiste à relever et décortiquer chaque parcelle, lopins de terre, habitat du territoire d'un couple reproducteur d'aigle. Ensuite, nous en ferons l'analyse comparative en fonction des différents habitats, en vue d'améliorer les techniques humaines dans le sens d'une meilleure santé de ces écosytèmes.
A work which consists to look at every field, every plot of land, breeding pairs of eagle habitat. Then, we'll do comparative analyse habitat, to improve human technique in the way of better ecosystems health.
---
Une multitude de cas de recommandations sont connus pour de nombreuses espèces. Many cases are known for species managment.
Une gestion forestière se voudra conservatrice de bois mort et de spécimen creux ou têtard pour assurer pérennité et richesse du vivant.
A forest managment could be old trees and dead-wood conservative to keep biodiversity and longevity of the forest.
Une gestion culturale se voudra cyclique et procédera de manière adaptée lors des fauches en particulier.
A cultural managment could be also cyclic and will adapt during mowing for example.
---
Bien des trouvailles scientifiques modernes! Alors que sans trop en connaitre l'impact des milliers d'années de civilisation agricole nous séparent alors de l'état de nature et ces procédures, ces manières sont réaprises ou sans cesse usitées en Roumanie par exemple. Je parle ici de la fauche manuelle, de la fréquence de rotation élévée des parcelles.
Such many modern scientific finds! Whereas people from agricultural begins, without our knowledges, for thousands years now, were doing it like we want to suggest in this time. Romanian farmers for example are able to manage their plots of land with techniques from these times. I mean manual mowing, high frequence of field-agriculturing.
---
Mais n'idéalisons pas! On peut voir en Transylvanie comme ailleur des méthodes plutôt ancestrales et tout autant néfastes. L'exemple frappant est le brûlis pour quérir de nouvelles terres cultivables...ou simplement pour rendre plus propre une prairie.
But we don't have to idealize! We can see in Transylvania as somewhere else some ancestral methods but as much as bad. The main case is the slash-and-burn field to get new cultivable ground... or just to produce cleaner meadow.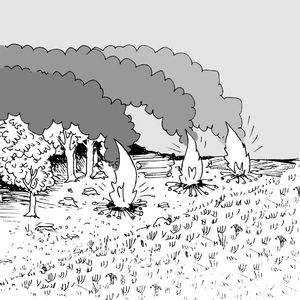 prédateur, prédatrice adjectif (latin praedator, de praedari, piller): Se dit des espèces animales qui se nourrissent de proies vivantes.
Bien plus complexe que l'énigme du batelier qui doit faire traverser loup, choux et chèvre. Un écosystème vous en conviendrez est bien plus, bien plus alambiqué.
27 juin 2011
Et toujours un petit velo dans la tete ! | And a bicycle still in mind !
photo extraite du film "Jours de fete" de Jacques TATI | Extracted picture from "Jours de fete" by Jacques TATI
Deja sur des plans de reconquete d'un velocipede a l'ancienne, ou d'un velo coucher fait main et encore d'un velo a chassis 3 ou 4 roues pour le fun | I am already to construct myself an oldschool Velocipede, or an home made lying-bike finally a 3 or 4 wheels bicycle just for fun
Tout ca biensur pour projeter le corps et l'esprit sur un plan verticalo-circumterrestre | Cause of a dream to plan my flesh bones and mind going all over the Earth
Ou mettre les sacoches maintenant? | Where can I hang on luggages?
Des projets un peu fou dans un monde qui l'est d'autant plus | Several crasy projects in such a crasy world