Un peu de vacance aussi... il n'y a pas que le travail dans la vie!
A bit of such day off also... There isn't just work in life!
Passage en France puis retour accompagnée! DE MAMAN FISCHER
Going to France and go back with "The Mother of the Suzanne"!
Petit moment à vaquer en vacance vers les verdoyantes provinces des Maramures, aux alentours de Targu Mures, sur l'affreuse route de Transfagaras qui grimpe qui grimpe haut ! haut ! villages saxons aux sonorites bien germanique, peuplades gypsies, bergés bavards, bon fromage de montagne... Une semaine au rythme roumain pour Sue, Isa et moi.
For a while, we went in days off into the direction of deep domain of the Maramures, near by Targu Mures, on the hideous Transfagarasan road which climb climb so high ! so high ! Saxon villages where we found a real German accent, gypsies villages also, talkative shepherd, good mountain cheese enjoying... One week in which we, Sue, Isa and me took a romanian rythme.
Transfagarasan construite dans les années 70 par la folie d'un homme, Ceaucescu, au péril de vies, bien souvent détruites! | Transfagarasan road built during the 70 by the crazyness of one man, Ceaucescu, at the risk of lives, mostly spoiled!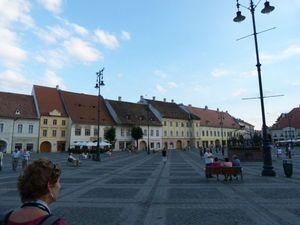 Place aux airs Italiens à Sibiu | Square which looks like Italian one, at Sibiu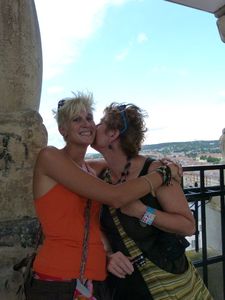 Depuis la tour du palais de la culture de Targu Mures |From the high tower of culture palace in Targu Mures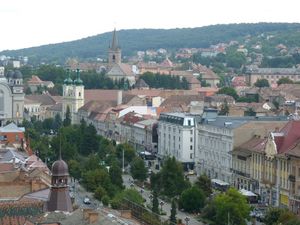 Vue de la tour, Targu Mures centre | From the tower, Targu Mures downtown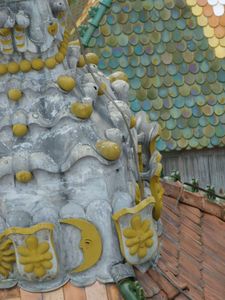 Toiture Bling bling à Targu Mures, faite en céramiques vernis | Roof Bling bling in Targu Mures, made with varnish ceram!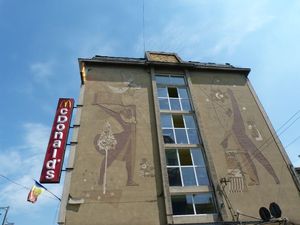 Voila la vérité vraie sur la Roumanie de nos jours, pas le temps, pas l'argent, pas l'envie, de s'occuper du souvenir, il y a "du retard" à compenser, un Mc do rien de mieux pour entrer de plein fouet dans le monde ouvert et capitaliste! | What to say? That's the new face of nowadays in Romania, no money, no means, no needs to care about souvenir, there "is delay" to fill up, what better than a Mc donald to come violently into capitalisme world issues!
Maramures et ces monastères tout de bois construit! | Made in Maramures monastry all wood built!
Pour ceux qui s'intéresseront à l'ingénierie des fermiers, ici un toit monté sur crémaillère pour protéger au mieux le foins mis à sécher! | Interesting stuff dedicated to those who want know more about engineering system of farmers, here a roof build to follow the quantity of dry grass, Trammel system!